September 2020
We have decided to open the Café on Fridays and Saturdays starting September Friday 18th and 19th 2020. Various other days of the week we will be holding small workshops that you can book to attend.
Café
The virus has not gone away, and there will be strict protocols to follow when visiting. We have separation screens between tables in place, and will have a person at the door to ensure everybody adheres to the regulations and will deal with table allocations. We have table service and when ordering contact details will be required. Menus are on the walls, and all condiments will come out with your order. When your server comes to take contactless payment at your table your exit time will be logged.
Masks must be worn when entering and moving around the café i.e. to the toilet area, or perusing craft items but obviously can be removed at your tables.
Workshops
We are introducing small workshops to take place within the Cafe area on various other days of the week.
Christine Finlayson will be holding Dressmaking / Pattern Cutting workshops on selected dates which can be booked online. Please see workshop tab. If you have a project you require help with she can help you with that too. These will be small workshops of no more that 5 persons making use of the screen protection system.
If you want a project to work on throughout the winter why not start here.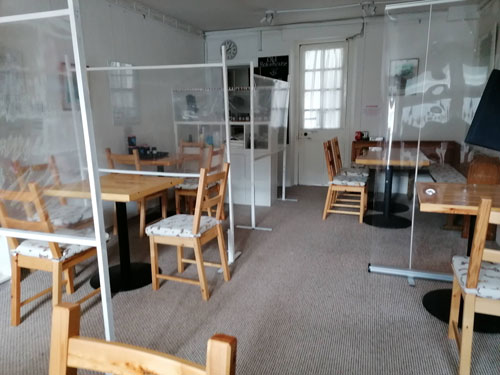 All Covid-19 measures are in place with the addition of the entire café being flooded nightly with UV light to ensure your safety.